Our School Year 2022-23 schedule is here!  Please contact us with any placement or registration questions. See below the schedule for our tuition scale. A built in discount is based on the number of dance class family hours taken per week. 
Click the "Register" link in the left column next to the course you'd like to sign up for and enter your information. If you have class or placement questions you can register and email us to help place your child in the appropriate class.  
Our tuition scale is based on the number of hours per family. A discount is built in to the scale. 
Please email us with any questions, we would love to help assist you in planning classes that will be best for your child. We are also happy to answer any questions you may have. Thank you!
School Year 2022-23 Dance Classes 
Classes Start  September 6, 2022 – May 26, 2023
Introductory Dance Classes 2-4 years old
Dance Classes Ages 5, Grades K – 2 and a ALL BOYS Hip Hop K-5
Dance Classes Grades 3 – 5 
Dance Classes Middle School  & High School 
Dance Classes –  High School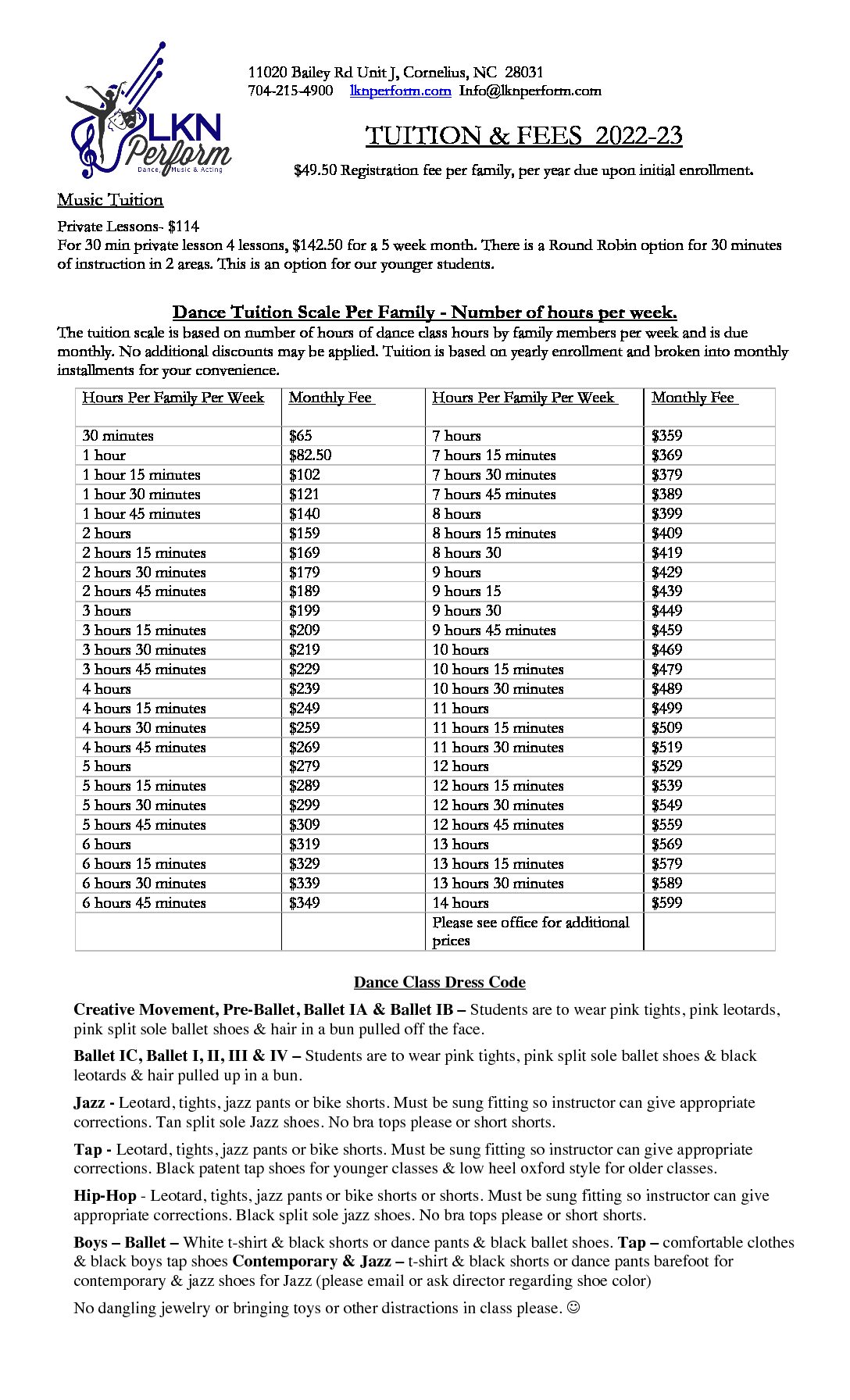 Acting Classes
Our Acting classes are charged individually based on the session & length of the class. If the class meets weekly & is a year long class. It is NOT included in the Dance tuition scale.
Studio General Policies & General Info for All Areas
Monthly Tuition is due on or before the 1st day of each month and is considered late after the 5th of each month. Automatic charge with a credit card on file is now required. Please login your to your secure parent portal on our website to manage your account & account information  –  lknperform.com
Dance – If you are sick we do allow a makeup class if there is an equivalent class option. We do not offer makeup classes when we are closed for holidays. Holidays are built into our schedule. Please email us if you would like to schedule. We do not offer refunds for missing class.
Music – If you are sick and call or email us in advance of your lesson time we will try and find a makeup time that works for both the student and instructor. We reserve the right to have a substitute instructor without notice to the student due to instructor illness or another matter. If there is a no show by the student with no prior notice then there will be no refund of the lesson and no makeup lesson will be allowed.
Tuition will continue to be charged unless written email notification is emailed to info@lknperform.com that a student is discontinuing classes. Please notify us in advance when discontinuing classes or lessons.
No refunds or credits are given for missed classes, however as a courtesy, students can choose a make-up class that is considered suitable by the instructor. Please communicate with us via email to inquire about a make-up time for a missed class.
We follow the CMS schedule for inclement weather. If classes are cancelled due to inclement weather there will NOT be a make-up dance or acting class. Students may take another class on our schedule to make-up that time but their particular class will not be made up due to the complications of scheduling with parents, students and instructors.
Please communicate with us! If you have a request, suggestion, problem or something good too – don't hesitate to call or send us an email. We really appreciate any friends you refer to us, thank you in advance!!
See You In Class!
** Keep updated on what we have going on by liking us on Facebook @LKNperform or follow us on Instagram @LKNperform. **
Dance Studio Policies
Please note the following guidelines regarding all dance classes:
1.         We request that students carefully observe our dress code. Ballet – Students age 3 – Ballet IB wear Pink, Tights, Pink Split Sole Ballet Shoes & Pink leotard. Ballet students level IC and higher Pink Tights, Black leotard & Pink Split Sole ballet Shoes.
2.      For your safety and to receive full benefit from your class, please arrange for a make-up class (if that is an option) if you expect to be very late.
3.         All students are encouraged not to leave the room once class has begun. Please allow for appropriate restroom use prior to class.  Very young children will be treated sensitively as the need arises. Preschool children may need a parent's attention from time to time for various reasons including bathroom or behavior issues. Please do not leave the waiting room when very young children are in class without informing the office or having another parent responsible during your absence. We make every effort to have all children feel safe and cared for in a loving and inspiring learning environment.
5.         School age children and teens: please practice respect.  Students are not to be socializing in a disruptive manner during the class with other students.  Please come early or stay late to enjoy friends in the waiting area.  Please honor your teacher and fellow students by giving full attention and co-operation.  You will be advised if we feel any student is not well adjusted to the classroom environment for any reason over time.
6.         During class if a student complains of being ill, or sustains an injury and cannot participate, the instructor will send them to the lobby were the parents will be notified if not on the premises.
7.         Other students, parents and friends can observe class in our waiting area.  We do not however allow individuals to sit in the classroom.  It is distracting to the students in the class.8.         No street shoes in the dance studios.
9. We reserve the right to stop lessons if tuition is not paid.
10. After the first lesson we do not give refunds under any circumstance. No exceptions.
11. Tuition will continue to be charged until we receive written notification of a withdrawal from classes. It must be received prior to the 15th in order to not be charged for that month. Please email info@lknperform.com to notify us of a student withdrawing from classes.
Substitutions
We reserve the right to provide a substitute teacher if the regularly scheduled teacher is ill or otherwise unable to teach classes. If a teacher is ill and the school cannot arrange a substitute any missed classes will be made up.
Dance Ensemble –
This is are our performance group and meets weekly for rehearsal. They perform at local festivals and events, at our Christmas Extravaganza & our Spring Performance as well. If you are interested in participating please let us know. Students are considered for the Ensemble at the beginning of each fall session. This group is for serious & committed students that love to dance and want more performance opportunities. We have a lot of fun and work hard, we do have additional rehearsals at times and parties as well. There is no charge for Ensemble & please note rehearsal time is not counted as a class.
Dance class is education and fun, however, an important part of class work is developing an attitude of discipline and respect for teachers and fellow students. We trust that following our classroom etiquette will provide an environment whereby classes at LKN Perform will be a pleasure for everyone!
See You In Class!
 Dance Classes
Our dance classes focus on developing a strong foundation in dance from professional instructors.  The emphasis is on developing strong technique, performance skills & of course a love of dance! We offer  dance classes in Ballet, Contemporary, Jazz, Tap, Hip-Hop, Creative Movement & Pre-Ballet classes as well.
As students develop, they will have the opportunity to take their performance skills to the next level and audition for our performing group – LKN Perform Dance Ensemble. The Dance Ensemble performs numerous times a year around the area and are also featured in both our Christmas and Spring Performances.

Dance Classes for our Youngest Dancers
Ages 2-5 Preschoolers and Kindergarteners
Preschool dance classes are available in our Mini-Movers, Creative Movement and Pre-Ballet.  Kindergarten classes are available in Ballet, Tap & Hip Hop. These classes help young children develop gross motor skills, enhance their focus and concentration, develop listening skills that will assist in their success in school and feel a sense of accomplishment at an early age. In addition the discipline and appreciation of the performing arts is a priceless asset that will stay with your child throughout their life.  The students will showcase their skills in a winter and spring performance.
Classical Ballet and Pointe Classes 
Our ballet classes focus on creating a strong foundation through proper alignment and the introduction of skills when both developmentally appropriate. Our goal is to teach your child complete body control in the same way the schools teach your child to read – one step at a time. We expect our students to be able to execute the steps properly as well as know the correct ballet terminology.
Ballet is the hardest dance form to learn but it is the one that gives your child the most. If your child doesn't take ballet, please consider it. Ballet instills discipline and concentration that will last their lifetime, and has been proven to help children do better in school.
You should definitely consider your child taking a second ballet class each week. It is much easier to become proficient if you practice and take class more than once a week. If your child is serious about ballet, carefully consider this second class.
Pointe is begun when your child is twelve years old or older and has developed strong muscles and good ballet technique. Students continue to take ballet while taking Pointe. You must have permission of the instructor to begin pointe.
Within our technique classes, dancers also study classical variations, partnering and dance conditioning.
Tap and Jazz
Classes in tap and jazz are offered from beginner through advanced level. Tap classes are 30 minutes each week. Tap classes focus on the origins of tap resulting in students gaining a solid foundation in this style. Our Jazz classes concentrate on classical Jazz technique. The Jazz classes are from 30 minutes to an hour hour depending on level each week. Both Tap and Jazz classes are scheduled either before or after a regular ballet technique class.
Hip Hop
Hip hop, the street form of jazz. It is a popular style of dance. We will offer 3 levels of this class. This is an hour class for beginner, intermediate and advanced students. We also offer an ALL Boys Class and an Adult Class.
Contemporary/ Lyrical & Modern Dance
Modern dance is a type of dance that evolved as rebellion to ballet. Contemporary and Lyrical meld modern, ballet & jazz to explore new types of movement. The class is taken without shoes and has an emphasis on creativity and body control. This is a 1 hour to 1 hour 30 minute class for children 10 years of age and older.
Adult Classes
We also offer Adult classes in Ballet, Tap, Jazz and Hip-Hop as well. This is a great way to stay in shape, learn something new or renew your love for dance!